Who, Where & When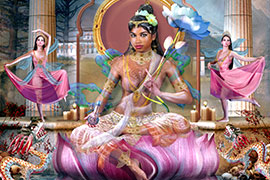 The 21 Aspects of Tara According to Atisha... With a blend of modern day digital photography and a great appreciation for the age-old Buddhist art of thangka paintings...
The twenty-one emanations of Tara are being created by Eric D. Hatchell of Wordmarque Design & Photography. At present fourteen are complete, with eight more in the works. Our mission: To breathe life into the Tara through art and awareness, while ultimately offering the world a positive and meaningful spiritual experience. From the five principal forms of Tara, we began with her primary aspect, the Green Tara, also known as Khadiravani, or the Tara of the Acacia Grove. Initially, all Taras were photographed in studio, against a "blue screen," with costumes and surrounding composition added later. Next we endeavored to make alive the Tara, by illustrating her 21 aspects, according to the tradition of Atisha.

Our creative solutions offer design with functionality. Graphic art itself means "pattern with purpose"... which is precisely the same configuration one finds in Buddhist thankgas. This arrangement of repeated and corresponding parts that form decorative motifs, portray iconic presentations with the sole purpose to convey a message... simply put, this means that thankgas are graphic art by nature and all things in nature, including sacred Buddhist art must evolve.
---
Our Team
Tara Photo Shoot Location (USA): Wordmarque Design & Photography Studio
4105 Duke Street, Alexandria, VA
Union 206 Studios
822 S Pickett Street, Alexandria, VA Shooters: • Eric D. Hatchell • Stephen King Models: • Abigail Taveras • Asian Bella • Aimee M. H. • Blue River Dream • Bold Pearl • Deja Thai • Dreamory • Ellie Marie • H. Bombshell • Hayley Nicole • Jenna Kellen • Katherine A. • Khulan • Klara • Michele Chevere • Phoenix JoJo Briggs • Valya Romanova Hair & Make-up: • Designer Touch • LaT Makeup • Wldchld Nise Lighting/Studio Assitants: • Delgermaa Dagva-Hatchell • Mark J. Donahoo-Hatchell Retouchers: • Ausra Kel • Holly Tillman • Kristiana Klekmanena • Retouchlab Stock Backgrounds: • Fotolia • Dreamstime
---
Tara Photo Shoot Location (Bhutan): Chang Lam 111, +975 Thimphu, Bhutan
+975-2-336785/17862891 Shooters: • Eric D. Hatchell • Rinzin Dorji Kunza Studio, Hair & Make-up: • Yangchen Wangmo of Unisex Bhutan Salon Models: • Meendu Bidha • Tenzing Deki • Dawa Saday Dukpa • Keza Deki Gyeltshen • Tenzin Nidu • Tshering Deki Shakchang • Deki Wangmo • Yangchen Wangmo • Nima Yangchen Spiritual Patron: • Lama Glenn Mullin: Author & tantric meditation teacher
---
Other Exhibits
Rays of Light & Sacred Guardian Spirits